Investing in 3D Printing Stocks (Additive Manufacturing)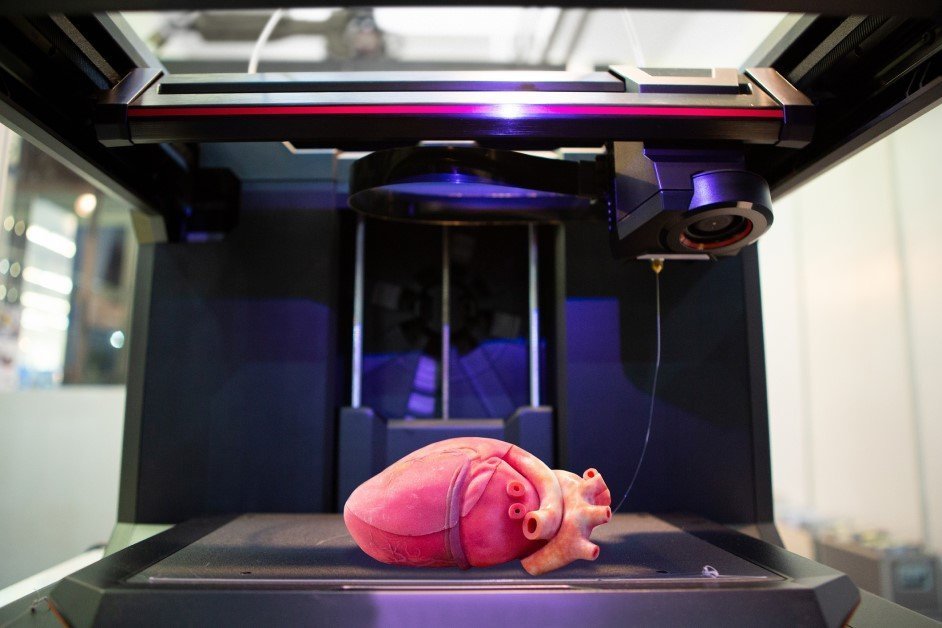 When reviewing investment opportunities in 3D printing (also known as additive manufacturing), investors often turn to consumer 3D printing companies that sell prototype machines for inside peoples homes, but the reality is the real opportunity for 3D printing companies are on the industrial manufacturing side. Whether it's 3D printing body tissue, or rockets, this is an industry ripe for growth.
We will explore what additive manufacturing is, how it differentiates itself from regular manufacturing, industries that will be disrupted, as well as some of the market leaders in this space.
What is Additive Manufacturing?
To describe it simply additive manufacturing uses data computer-aided-design (CAD) software or 3D object scanners to direct a printer to deposit and add material, layer upon layer, in precise geometric shapes. The process of additive manufacturing therefore adds material to create an object instead of substracting material. This results in significant waste reduction, is more environmentally friendly, and results in a product with significantly less weight. The weight reduction benefits are extremely important to reduce costs in shipping, and this cost is amplified in the aerospace industry where rockets launch manufactured payloads in orbit. One example of this weight reduction is by Materialise a company that has successfully 3D printed Titanium with a 63% reduction in weight.
Industries to be Disrupted by 3D Printing
3D printing is disrupting multiple industries but no where will this be more impactful than in healthcare. We can easily imagine a future where precision medicine is able to 3D print a pill that is precisely tailored to someone's genome, gender, weight, and other unique identifiers. A 130 pound woman should take a pill with a different quantity of medical ingredients than a 260 pound man.
The same rules will apply when actual body parts are printed, these could potentially be printed with embryonic or genetic material that is designed with a specific genome/individual in mind. This precision would prevent having to use immunosuppressants, these are drugs or medicines that lower the body's ability to reject a transplanted organ but unfortunately result in the body losing its ability to fight infections. 3D printing will assist us with moving from generalized one size fits all medicine to precision genome targeting medicine.
When it comes to fashion, a person could have their face or feet scanned with a mobile phone, and the shoes or sunglasses that they choose could be custom-sized precisely for that persons feet or face. A woman shopping for a dress could choose a dress, have a body scan to measure a precise fit, and have the dress either manufactured on-site, or shipped for next-day delivery.
Automobiles and aerospace will be significantly impacted as well. Imagine the difference in fuel or electricity consumption when automobile parts, or potentially entire automobiles can be 3D printed resulting in significant weight reductions. Shipping containers with half the weight, would also reduce in huge cost and environmental savings, same with launching rockets into space, with light-weight 3D printed satellites.
Below are three companies that are well positioned to be at the forefront of this new advent in manufacturing.
Materialise (NASDAQ: MTLS)
Headquartered in Belgium, with branches worldwide, Materialise has combined the largest group of software developers in the industry with one of the largest 3D printing facilities in the world. Materialise is disrupting multiple industries including designing titanium inserts for Spacecraft that are 66% lighter than traditional manufacturing. They've partnered with dozens of brands since 2013 to bring their eyewear collections to the market.
In Belgium a surgical team led by by Prof. Phillip Blondeel at the University Hospital of Ghent successfully performed Belgium's first full face transplant thanks to patient-specific planning and 3D printing by Materialise. If there is a company that is disrupting the marketplace and being a market leader it is Materialise.
3D Systems Corp (NASDAQ: DDD)
3D Systems Corp is a market leader in many industries that are reliant on additive manufacturing. One example, is how they are a partner in digital dentistry for labs, dental distributors, and OEMs. Its unique, high-end manufacturing technology ensures perfect fit, function, and aesthetics for all dental prostheses, whether cemented, removable, or implant-retained.
They also offer high-end 3D printing services for metal implants and instrumentation used for orthopedic, spinal, craniomaxillofacial (CMF), dental, and veterinary applications. Medical device companies rely on expertise and direct metal printing (DMP) capabilities to guide them from prototyping and trial series to large-volume manufacturing.
When it comes to automobile manufacturing hardware, the software and services solutions they offer are helping companies develop lighter weight parts to drive down manufacturing costs, design and produce innovative assemblies that reduce part counts and provide greater strength and efficiency, and create realistic prototypes that can remove months from the product development process.
Other industries they are involved in include aerospace, defense, and jewelry.
Stratasys Ltd (NASDAQ: SSYS)
Stratasys Ltd is one of the most popular household names when it comes to 3D printing,  the company is an American-Israeli manufacturer of 3D printers and 3D production systems for office-based rapid prototyping and direct digital manufacturing solutions. They've built a reputation as a trusted 3D printing partner in industries including aerospace, automotive, consumer products, dental, medical and transportation.
Stratasys sets itself apart by how they've become a one stop solution for various industry players. For the automotive industry they enables companies to prototype, test, and produce all manner of tools, jigs, fixtures, and street-ready parts with unprecedented speed and efficiency.
In healthcare medical professionals can validate device performance on patient-derived 3D printed anatomical models versus existing models such as animals and cadavers. Based on real patient imaging, 3D printed models mimic a variety of tissue properties in a single print.
Summary
It is still early days for 3D printing, many investors have dismissed the industry due to it not being as well recognized as other familiar industries such as artificial intelligence and blockchain. Nonetheless, it is an industry that will completely disrupt and alter the way humans manufacture products. Savvy investors should become familiar with this industry and realize that the future will be very different than the modern standardized assembly line type manufacturing process.
Antoine is a futurist and the founding partner of Securities.io & a member of the Forbes Technology Council.
He is also the Founder of Unite.ai a news website on AI & robotics, the generative AI platform images.ai, & is he is currently working on launching genius.ai a platform that will offer users the ability to configure and deploy autonomous agents by breaking prompts into sub-tasks.